Ok. Welcome back to the Four Biggest Myths of Wealth Creation series. I hope you enjoyed the first video.
If you missed that, you can check that out here – https://academysuccess.com/myth-1-cant-get-rich-working-someone-else/
Now, let's move on to the next myth – one that limits people on a massive scale, and most likely you on some level.
This one goes something like this:
"Only 'money people' should invest"
"You have to be a math whiz for that stuff to work"
"I just don't know enough about money"
"All of that stock market stuff is too complicated"
"I'll never be able to do all of that investing stuff"
I've heard these exact phrases muttered, and several variations of them, over and over as long as I've been studying personal finance.
Pay attention to how limiting they are. All of these phrases arise from one thing – fear of the unknown.
What is happening here is this. You are scared of something that seems a little bit intimidating, and your fear takes over your subconscious to try to protect you from a scary situation.
Your subconscious then comes up with all of these excuses for you so you don't have to participate in these scary situations.
This is called "rationalization" and it's one of the major tendencies of human behavior that holds you back.
It's not your fault. This is just instinct passed down from generations of trying to protect ourselves and stay alive.
Very few people actually possess the natural ability to welcome and conquer fear head-on. Most people that are highly courageous and develop themselves relentlessly have learned this behavior over time. And they're highly successful because of it.
Most people give into fears and limiting beliefs, and it costs them dearly. I don't want this to be you.
So let's talk about that how that relates to your financial situation.
A little effort goes a long way
When you give in to fear and let your rationalizations take over, you immediately shut down and take no action to even try to change.
This is why so many people stay "stuck in their ways" their entire lives. They fail to ever recognize the limits they are unknowingly putting on themselves.
For some reason, they have convinced themselves that they are a certain way and there is nothing they can do about it.
So how does this relate to money?
Well, it's through this kind of limiting self-talk, that being poor and living a lifestyle of poor money management can become part of your identity. If you constantly tell yourself that "you are just bad with money," then you will be. It literally becomes who you are.
Here's a tip.
Time passes every day. It passes whether you choose to try to improve yourself or not, so I say why not try, right?
But here's what can happen if you ignore your limiting beliefs and choose to try anyway.
The story of my own limiting beliefs
First off, I'm not naturally great at math. This is not something I just always told myself without trying.
Through many frustrating and sleep-deprived nights and head-smashing four hour long exams, I got through a couple of years of calculus and the accounting and finance classes it took to graduate with an MBA.
But it never came easy to me.
This actually made it even easier for me to tell myself I would never be able to excel with money – because at one point I equated being good with money to being good at math. I don't know why. It just seemed to make sense at the time.
But then I my income started to increase, and I knew that if I wanted to protect it and create a good life for myself, I would need to become a "money person."
So I said screw it. Time passes anyway, right? I might as well give it a shot.
I started trying my luck in the stock market. I opened a brokerage account and made some trades, I opened an IRA, got into a decent and safe mutual fund and started maxing that out. I even made some money with my investments here and there.
It wasn't perfect from the start. I made mistakes. I lost some money now and then, but I learned the ropes and now I'm pretty good at it.
Had I given into my limiting beliefs and fears, there's no way I'd be where I am today.
Creating wealth is about your behavior
From there, I then began learning about the psychology of money, financial automation, and that creating wealth is much more about behaviors and habits than it is about stock picking and equations.
Do you know how many broke doctors and lawyers there are out there? A lot more than you think.
Read The Millionaire Next Door for some good stories and data about that.
Fast forward to today, my 31st birthday as I post this, and I'm in a pretty good financial situation that is improving each and every day – all because I chose to ignore that initial fear and give this money stuff a good old college try.
Just check out this chart from my Mint account if you don't believe me. I promise I am not artistic enough to have faked that 🙂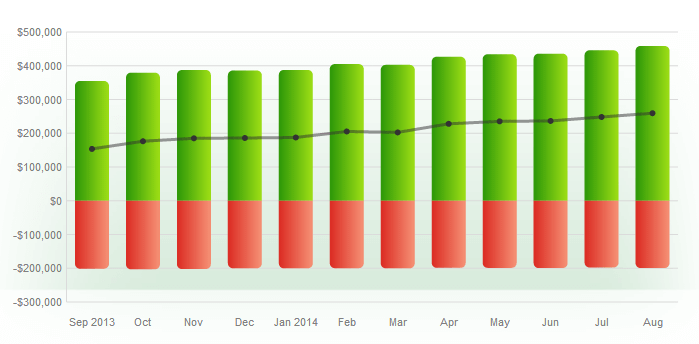 My point here is this.
If you work in the financial industry, you're probably going to be better off with some solid quantitative and analytical skills, and they certainly don't hinder you with investing, but being a numbers person is not necessary to build a solid portfolio that can grow into the millions by the time you retire.
Wealth creation has never been easier
You can open a brokerage account and get invested the same day.
You can choose a lifecycle 401k fund and let it do the work for you.
There are even automated investing services out there like Betterment (free $25 for you, free $10 for me with that link) that allow you to choose a goal, and they do the rest for you.
The barriers will keep getting lower and lower. That part is easy now.
The magic to creating wealth is in the actions you take to educate yourself and the behaviors you execute on a daily basis.
Nail those down, and you'll have no problem being a "money person."
Just give it a try, because time passes anyway. You might as well have something to show for it, right?
What's coming up next?
Ok. The next video in the series will be coming your way on Wednesday, September 3rd, sometime in the morning. Keep an eye out for that one.
We'll be talking about gambling, and how it can hold you back from a life of wealth. And if you think you know what's in store, think again. This is gambling like you've never heard of it before. You'll probably be surprised.
That will be in your inbox on Wednesday, September 3rd. If you're not on the list, make sure to subscribe anywhere on the blog to get it.
We'll talk then.
—