Think about your ideal lifestyle for a moment. Get specific.
Where do you live?
What kind of car do you drive?
What do you wear each day?
What is your social life like?
What is your house like?
Think about every little detail.
Do you ever wish you could improve that quality of life in a few places, but just can't seem to find the money to do so?
Over the next few days, I'm going to share some stories with you of back when I was in this exact situation, and how I was able to transform my life dramatically from that point.
We'll start with how I used to absolutely hate my lunches, which is something I have come to love today.
Back when I was first getting my feet wet in the corporate world, I didn't have a lot of money to spend on anything, much less going out to lunch.
Like a lot of people, I was buried in debt from school, was trying to make it on my own, and was just scraping by day by day.
Most days my lunch consisted of those 99 cent microwave meals you find in the frozen food section, or every college kid's favorite, top ramen (solid marketing on adding the "top"). Yuck!
To be honest it was dreadful. I choked those things down because it was all that I could afford, and it didn't do much to keep me fueled for the day. In fact I always felt horrible after eating them.
Today, I don't even think twice about spending $10 on a nice grilled chicken salad, or when I'm feeling saucy, a delicious hot sub from Penn Station. Bottom line, it's a nice thing to not have to worry about.
So, what happened in the years in between?
I realized that if I wanted to live a life where I didn't have to worry about things like how much I spend on lunch (among other things), I needed to increase my income.
And I needed to make that happen myself.
I needed to figure out how money worked and needed to work on earning more of it, which is exactly what I did in those years.
Here's how my salary has progressed from what I now call "the microwave lunch era."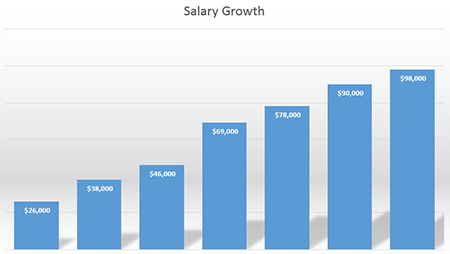 And here's my final pay stub of 2015 to prove it.
If that's too small, the yellow highlight says $98,493.98 for the year, which is nearly a 4x increase in the span of about 6 years.
It's extraordinarily frustrating to get passed over year after year for raises, while you watch the high performers at your company get paid ridiculous amounts of money.
Not only are you doing a valuable job for less than you're worth, but you also simply can't live the lifestyle you want to live.
So I ask you once again. Think about your ideal lifestyle.
Where do you live? What kind of car do you drive? What do you wear each day? What is your social life like? What is your house like? Think about every little detail.
Are you serious about achieving it?
There's nothing more that I want for you than to show you how to live that lifestyle, and how to eliminate the pain that comes from being underpaid. It's why I started Academy Success 5 years ago.
What kind of raise would change your life? $2,500, $5,000, $10,000, More? Just think about that, and we'll talk again in a couple of days.
See you then,
​Cody
PS:
Next time I'll be showing you a video that explains the mindset shifts I made which made the screen shots you see above a reality.
Here's a sneak peak at that lesson. Keep an eye out.