Welcome back. This is myth number 3 in the Four Biggest Myths of Wealth Creation video series.
I hope you've been enjoying the videos so far. If you missed any or would like to watch them again, you can check out videos one and two at the links just below.
I recommend doing so if you missed them. They'll reveal some very interesting mindset shifts you can make that can dramatically alter the results you can achieve with your personal finances and wealth creation.
Here are those links:
Now, let's talk about today's myth. Myth number 3 in the series, the myth that investing is just like gambling.
Investing is Just Like Gambling?
This is another one of the most misunderstood myths in personal finance. In this video, I want to prove that myth wrong, and show you how through taking a stable long-term approach to wealth creation, you can virtually eliminate the possibility that you will lose money with your investing.
But first, let's take a look at what gambling actually is.
I have a quarter in my hand right now. Now, what I'm going to do is flip this quarter and I want you to guess what it is going to land on.
BUT… before I flip it, I want to give you a choice.
Imagine that you have $5,000 in cash saved, and if you are correct, you double your current savings.
But if you are wrong, you lose everything, and you have no opportunity to invest and grow your income until you save another $5,000
Would you be willing to take that risk?
Would you be willing to lose everything you have and the future potential to make millions on a coin flip?
If so, then THAT is gambling. This is what a lot of people do when they blindly throw their money at random stock tips hoping to get rich quickly. Many individual stocks can be very volatile. If you've ever heard horror stories of people losing money in the stock market, that's what probably happened to them.
They weren't thinking long term.
Focus on Safe, Long-term Wealth Creation
What isn't gambling is investing in safe, solid growth funds in the stock market, like those that exist most commonly in IRA and 401k plans. These are diversified funds made up of many types of funds that are designed to be much more stable than individual stocks alone.
These types of assets aren't going to have the huge 30% growth numbers that some stocks might have, but they also won't have the huge collapses that individual companies might have. They're protected from high risk because each individual companies make up only a very small portion of their total allocation.
Take the Vanguard Growth Index Fund for example (I'm not recommending this fund. This is just an example).
It's made up of several very well-known and stable companies that are still growing steadily that aren't likely to go under anytime soon.
These are companies like Apple, Facebook, Google, Disney, Qualcomm, Coca-Cola, and so on. And if one of them does happen to fail, the others will protect the fund from losses, and the mutual fund manager will likely remove that from the fund's holdings.
Holding this type of fund over the long-term is very safe and will likely pay off very handsomely.
Now you might be thinking, but "how am I going to get rich if I don't buy stocks that won't double in two weeks?"
Well, you think long-term. That's how.
For the average investor, most stocks by themselves are no better than coin flips. You do have to know what you're doing to invest in individual stocks.
But that's the beauty of IRAs and 401ks. They are meant to be long-term investment vehicles. They live in these types of safe, index and sector based funds.
So before I flip my coin, consider that the stock market is up an average of 10% per year since the 1920s. That's almost 100 years. But let's just call this experiment for 30 years.
Even if you had only $5,000 to invest, just one single time, it would end up multiplying several times over at this rate.
It would be over $87,000 in 30 years.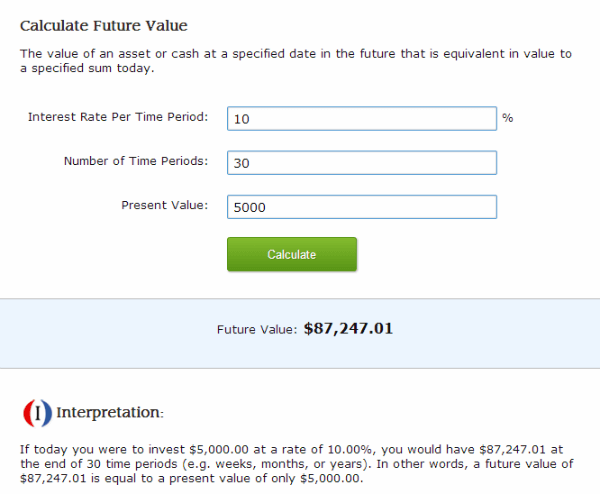 Would You Rather
So I ask again, would you rather risk losing $5,000 for a 50/50 chance of having $10,000 now?
OR
Would you rather invest that $5,000 at 10%, leave it there, and have essentially a 95% chance at having $87,000 or more in 30 years?