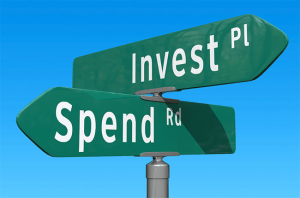 I'm just going to come right out and say it.
Most of the people you know have no idea what to do with their money.
They probably have no idea where their money goes.
They probably waste money on dumb things while saving very little
They're probably trudging towards a life of poverty in retirement.
My hope is that you have good financial influences in your life, because no matter who you are, you will inevitably pick up the habits of those around you.
So to that note, I want to address a question I'm asked pretty frequently – what to do with "extra money" (other than swim in it of course).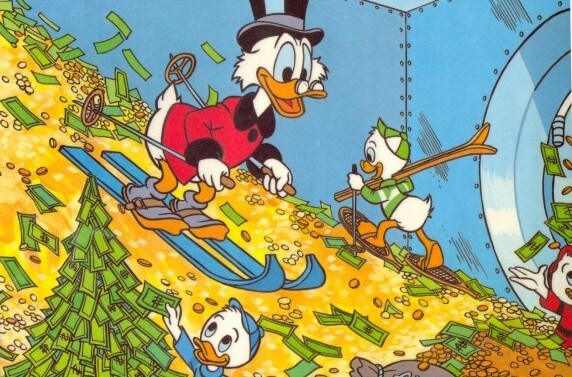 But before I go on, you should know that the choosing the wrong way to go about handling this situation can cause you to develop some destructive behaviors and habits and could spell disaster for you financial future.
"What Should I Do With This Extra Money?"
If you've ever been in a situation where you have "extra money" floating around, well… that's a good problem to have.
We're talking something like a few thousand bucks or more here, or a large and extended cash flow surplus.
If so, high five!
If not, it'll probably happen to you at some point, and I want to be in the mindset that it will, so keep reading.
Maybe it's from a big bonus or settlement of some kind
Maybe it was a windfall cash gift from a relative
Maybe you got a nice inheritance
Or maybe you're just smart and you're making a lot more than you have expenses
Whatever the situation, this can be one of two things along the spectrum of money.
It can fall towards the end of being a awesome opportunity to create a large amount of wealth for yourself in the future
OR
It can fall towards the end of being a gateway to opening up the flood gates of overzealous spending habits in your life.
The choice is yours to make.
How Your Extra Money Can Make You Poor
Before we get into the seven awesome things to do with your extra money, I want to throw you a very important warning.
If you're about to just scroll down to the 7 strategies, I can't really stop you, but if you really care about your money I urge you to heed my warning, young grasshopper (I've always wanted to use 'heed' in a sentence).
Before I go on a rant, here's some data for you to back up this point.
When people come by a large chunk of unexpected money, there is a strong feeling in them that it's not really theirs, and they have a license to spend it.
Just think about the last time you found any quantity of money. What were you immediately tempted to do? Spend it on something, right?
The same is true for any type of "found" money.
In 2009, Harvard Researchers found that when they gave participants of an experiment an extra $10 more than a peer group, the subjects spent 20% more after being told the money was "extra" in nature.
In financial behavior psychology, this is known as "mental accounting" where people assign economic values to their income often by what the source of it was (how hard they worked for it, for example).
What this means is, people are far more likely to value money less that they don't feel they have put in a large amount of effort to earn.
Or to put it another way, they're more likely to spend "extra money."
How this is dangerous to you is, if you don't realize and recognize this phenomenon when you have come into extra money, it can often result in a large amount of irresponsible spending, and in some cases, a large change in your financial behaviors.
For example – Let's say you come into $10,000.
You're all super happy skippy excited and decide you should put that $10,000 down on a new car that costs $30,000.
So now – instead of having $10,000 in the bank  – you have a $350 car payment for 5 years, as well as probably higher insurance costs.
So not only have you taken what should have been a good thing and turned it into a five year expense commitment for yourself, but more importantly, you've probably also set a precedent for yourself that you really like $30,000 cars, and you'll never go back.