When I first started developing 401k Millionaire, it was originally planned as a high end video course only.
It was packed full of several hours of high definition video content, plus extra downloads such as email scripts and templates, full slide decks, MP3s, PDFs, and accountability reminders.
There was only going to be one way to get it, to be a high achieving premium subscriber.
But then I thought back on why I created Academy Success in the first place, to help as many individuals as I possibly could.
Yes… There are a ton of different ways I do that already… 95% of the information I teach you is completely free.
Creating free articles each week on Academy Success
Free videos on Youtube and other social channels
Guest posting on other blogs
One-on-one consulting with those who need more personalized help
Contribution to private groups and forums
Academy Success "How-tos", and much more.
But helping as many people as I can doesn't just mean creating free content.
Why You Should Invest In Yourself
You know I'm a huge psychology nerd, and one thing that is true in psychology is when people pay for something, they are 1000% more likely to achieve a result from it, because they are committed to it.
Just think back to the last time you got an educational product for free, whether it was a book, a download, a course, etc.
Did you get a result from it…?
Did you even read it…?
Maybe, but I know for a fact you didn't get nearly the result you've gotten from buying premium education.
So I'm in the situation of walking the line between charging for premium content, and not charging so much that it puts the course out of reach.
This means creating affordable options for everyone. So in staying true with that goal, I decided to give you three options for 401k Millionaire.
The high end video bundle is still available.
This is the best value for you the more serious high achievers of Academy Success students out there because it provides everything I created in the original version of the product and includes all future updates of the product for free, but in case cost is a preventing issue for some folks (it shouldn't be for this type of premium information), I've also created two other options that will still provide a ton of value, but are a little more affordable – because I'm awesome like that. 🙂
Your 401k Millionaire Options
Here are those options, and how you can get each one.
Option 1 – Basic 401k Millionaire eBook
67 Page Full-Color 401k Millionaire eBook
Step By Step Action Steps With Each Lesson
Basic Email Support
Get The 401k Millionaire eBook Here – $47
Option 2 – 401k Millionaire Audio Bundle
67 Page Full-Color 401k Millionaire eBook
Over 3 Hours of Individual Audio MP3s
Full-Length Course Audio MP3
Step-by-Step Actions Within Each Lesson
Basic Email Support
Get The 401k Millionaire Audio Course Here – $77
Option 3 – 401k Millionaire Premium HD Video Course Membership Bundle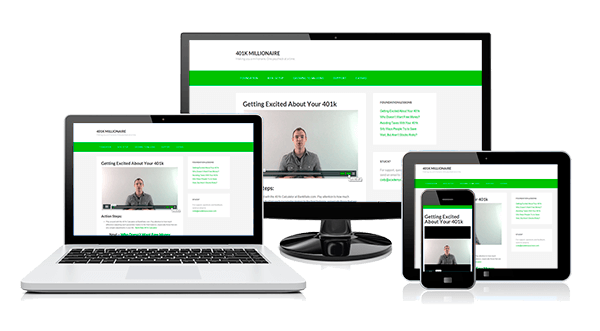 Lifetime Access to the 401k Millionaire Online Members Area
Lifetime Access to 14 Streaming 720p HD Videos in 4 Modules
Lifetime Access to All Future Updates
67 Page Full Color 401k Millionaire eBook
Over 3 Hours of Individual Audio MP3s
Full-Length Course Audio MP3
Word-for-Word Email Scripts
Fully Downloadable Slide Decks
Step-by-Step Actions With Each Lesson
Built-in Accountability Reminders to Make Sure You Follow Through
Premium Email and Chat Support
Get The 401k Millionaire Premium HD Video Course Here – $147
All three options will provide you with an incredible amount of value, allowing you to create massive wealth with your 401k, without even noticing an impact in your day to day spending habits.
If you are ready to start thinking seriously about your financial future, this is an investment in yourself that you won't want to pass up.
Fall enrollment is now open, and ends on September 28th at 11:59 EST. Get your copy now.