So far in the Four Biggest Myths of Wealth Creation series, we've talked about several common limiting beliefs that are holding you back from a life of success in personal finance (we're talking literally six to seven figure setbacks here, so pay attention).
The past couple of weeks have been really fun for me, and I hope have been really eye-opening to you.
Today, we're going to talk about the one thing that we all want, and how to make sure you get it – financial freedom.
The Difference Between a Goal and a Wish
Before I get into the final myth today, I want to share a quote with you. This is a quote that not only applies to your personal finances, but to any kind of result you want to create in your life.
A goal without action is nothing but a wish…
Think about that for a minute. How many times have you said:
"I wish this"
"I need to do that"
"If I could just do xyz"
You know what? You can.
There's no reason you can't achieve the goals you wish for. We've talked about that plenty already.
But with as strong of an emotion as desire is, all of the wishing, desire and want in the world won't get you any further than you are right now.
Whatever result you are hoping for, whatever wishes and goals you have for yourself financially and otherwise, whatever picture you have painted for yourself in the near and far future, if you want that result to become a reality, you need to take action to make it happen.
No One Else Is Going to Do It For You
After we talk about Lesson and Myth #4, I will be opening up my 401k Millionaire course at the end of this video.
I would be thrilled if you chose to take action and invest in it for yourself, but even if you don't, I strongly urge you to take action with the four free lessons I have shared with you over the course of this series.
Understanding any one of these lessons can mean the difference between a life of wealth and freedom, and a life of wishing and hoping for something good to happen.
And that's a perfect segue into Myth #4 – the myth that someone else will handle your financial future for you.
Let's get started.
Someone Else Will Take Care Of My Future, Right?
Work is the new retirement
Working your entire life? Sounds awful doesn't it?
According to a study done by BankRate.com, 74% of people in their 40s and 50s plan to continue working during their "retirement" years because they feel they won't have enough money.
Do you want that to be you?
It sure as hell isn't going to be me.
So let's explore this. I want you to take a moment to think about something for me.
Think about how many people you know who are in their 50s, 60s, or even 70s, who are still working every single day. These people likely have decent lifestyles, nice things, and good jobs, but there is one issue that plagues them all.
They can't retire because they don't have enough money.
They still have mortgages over their heads
They still have cars to pay off
They still have and all kinds of other financial liabilities that are preventing them from hanging it all up.
Sure, different circumstances happen to different people, but one thing is common among all of them – their thought process.
What was their thought process throughout their lives that caused them to arrive in this situation?
A Dangerous Thought Process
They didn't take control. They thought someone else would handle it all for them, and one day they woke up thinking "I want to retire, but I can't…"
And this is the same thought process that a lot of people have right now, maybe even you.
"Social security will take care of me"
"My company has a good pension" (50% of these are now gone – don't trust money that isn't in your name directly)
"I've got an inheritance coming"
"My family will support me"
"Something will come up"
"I'll figure it out later"
All of these phrases represent a complete lack of control.
Social security is due to run out in less than 20 years. Pensions are already being slashed, if not completely eradicated. Unions are as unstable as ever. And the delusion that "I'll figure it out later" is just absurd. Later never comes.
If you aren't saving and investing in your own name, you don't have a plan.
Bottom line is, many of today's baby boomers are working well into their 60s, and some into their 70s because they failed to plan correctly, thought someone else would take care of them (the government, a union, a pension, their family, etc), or just came to the conclusion of "I'll figure it out later."
They created lifestyles that they could afford on their salary well enough, but when it came time to save money for the future, they had absolutely nothing left over.
I don't want this to happen to you.
In order to save for your future goals, you have to have something left over to invest and grow, and you have to plan for that to happen.
Your money is not going to take care of itself, and no one else is going to do it for you.
As we talked about in Video 1, you absolutely can get rich working for someone else. You can create millions of dollars of wealth actually.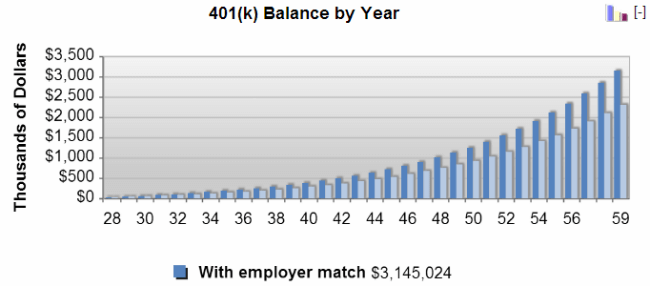 Yes, it might mean you buy a slightly smaller house, it might mean you buy a slightly less expensive car, it might mean you budget differently, and it might mean that you need to improve yourself and continue to grow your income throughout your life, but what it will all amount to in the future is the ability to create seven figures of wealth for yourself to retire on in your 50s, while you watch others work into their 60s and 70s, and even to their death beds.
And most of all… it will amount to freedom.
Freedom that will occur 10 to 15 years sooner. Freedom that you will be able to thoroughly enjoy because you will still have plenty of life left in you.
If you're in your 20s or 30s, you're in an awesome position to make this happen, and I strongly consider you to take action starting right now. You have to save far less than someone in their 40s or 50s.
But however old you are, it's never too late to take control and plan. Something is always better than nothing.
So now I want you to consider this question.
When Do You Want to Stop Working?
Almost everyone will say "early, sometime in my 50s."
And that's a great goal to have, and is achievable even for moderate income families.
But the harsh reality is only a very small minority of people will change their behaviors to make that goal a reality.
As we talked about earlier, a goal without action is nothing but a wish. If you want to retire in your 50s, you're going to have to change your behavior to achieve it.
The point I'm trying to drive home here is that for this to happen, YOU HAVE TO MAKE IT HAPPEN.
You have to deliberately take control of your finances in your life to make sure your debt is paid off, to make sure you are saving enough, to make sure your money is growing over time, to make sure you consider your goals for your future BEFORE maxing out your expenses, among many other things.
As much as you might hope, no one else is going to do this for you, not even me. I can be your guide, but it's ultimately up to you to change your behavior.
You cannot afford to risk your financial future on the idea that you do not have to worry about your finances.
It's up to you and you only take care of.
I know this is a little bit of tough love, but you know I'm not here to feed you lies. This is 100% real. Take control now, or risk working for your entire life.
401k Millionaire is Now Open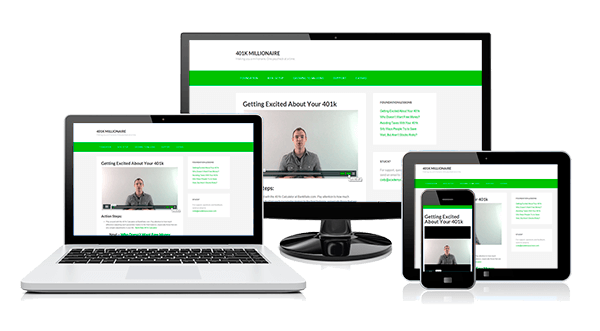 For those of you with a 401k, there has never been a better opportunity than right now to take control.
The last eight months at Academy Success have been leading up to this moment for you.
My new 401k Millionaire course is now open for enrollment to Academy Success readers.
401k Millionaire is my newest flagship course, designed to walk you step by step through all of the actions you need to take to set up your 401k to create millions in your lifetime.
The last few weeks have shown you that is possible for you.
This isn't just a course to teach you about how 401ks work. That's just the basic stuff.
By the end of the course, if you follow all of the actions, scripts, and templates I've set up for you, including my "Ramp-Up Strategy" that will take you to the seven figure mark, you will be set up to create massive wealth with your 401k, and create the freedom for yourself to do what you please financially when you retire.
Module 1
The Foundation, will make sure you understand everything you need to know for your 401k to make sense to you. Everything they don't teach you about your 401k when they dump it in your lap and say "here you go", we'll discuss in this section.
Module 2
Your 401k Setup, will walk you step-by-step through setting up your 401k correctly, from investing in your first fund, to making sure you have the correct fund allocation for your risk level, to making sure you are maximizing what you can earn from your employer.
Module 3
Growing to Millions, will introduce my "Ramp Up Strategy," which walks you through the actions for you to take your 401k from 5 or 6 figures, to generating 7 figures of wealth and freedom. We'll also talk about how to protect your money to make sure it continues to grow quickly over time.
Module 4
What To Do When, will take you through many of the uncommon, but likely situations you will encounter in your life that will affect your 401k, and what to do when they happen. By the end of this lesson, you'll have a plan. You'll be completely prepared for anything that will come your way.
—
Imagine having a plan that you know is going to work, and never having to worry about your financial future again. This can be a reality with 401k Millionaire.
In just a few weeks, I'll take you from complete novice, to a 401k expert, and you'll be ready to create a life of freedom for yourself.
How To Get Enrolled
We've actually already got a few early birds that have joined, so I just want to say welcome to you guys who are already in.
For those of you that have been waiting for today to get signed up, you can go ahead and do that here.
If you're on the fence, I'll be sending out more information later in the week to make sure you have all of the details you need in order to make your decision. Be sure to keep an eye out if you're considering joining, but aren't yet sure.
For the rest, we'll talk more later in the week and I hope you consider joining us all.
For now, you can read about 401k Millionaire and the awesome results it has had on people's lives here.
We'll talk in a couple of days, when I'll be going into more detail about some of the results people have gotten, and what you may be able to achieve as well.
To your financial freedom!
—