SKIP AHEAD: There's no better way to pay off your debt quicker than to add to your income streams. My mentor, and best-selling author and CEO, Ramit Sethi, is hosting a special, live in-depth presentation on how to make $1,000+/month doing what you love…
Register here: https://academysuccess.com/earn1k-webinar
—
Over the past week, we have:
Now it's time for the next piece of the puzzle to continue to increase your financial prowess – making money on the side – which is a great way not only to pay off your existing debt very quickly, but also to provide you a "safety net" to fall back on for the rest of your life.
Most people have one income stream — a normal 9-to-5 job.
And, most people would say that's low-risk.
But entrepreneurs and enterprising individuals not unlike yourself look at things a little bit differently: They see one income stream and say, damn, that's risky.
What if you lose your job?
What if the economy falls apart?
What if you encounter a large unexpected expense?
The reality is that starting a side business is the easiest way to increase your earning power instantly. And the best part is, unlike your salary, the potential to "give yourself a raise" is practically unlimited.
What happens when you start a profitable side business?
You can add a second income stream to your life.
You can use this as pure extra income to pay off your debt astoundingly quickly.
You've already got the rest of your bills covered, so anything extra you make can go straight towards that goal.
Even in the worst case scenario such as a complete job loss, you still have income you can fall back on.
Learn From a World-Class Expert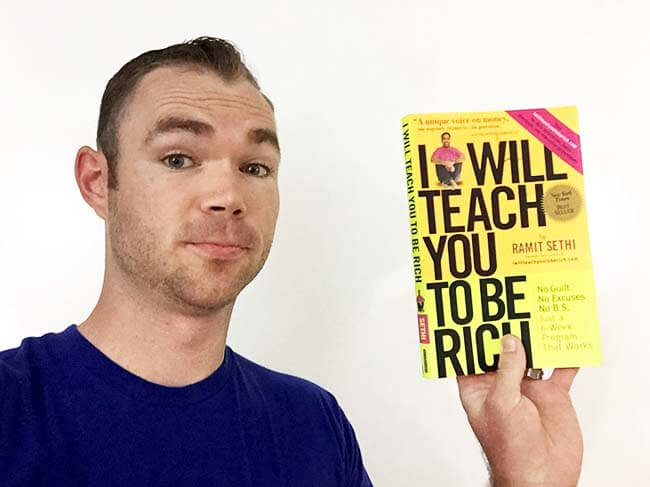 In my own lifetime, I've made tens of thousands of dollars that can be considered as "on the side."
This ranges from anything to building websites, to writing marketing copy, to doing voiceover work, to video production, and quite a few other things in between.
But while I do have a fair amount of "side income" chops, I'm hardly a "go-to expert" in this area. But that's OK.
For this portion of the training, I want to leave you in the incredibly capable hands of a mentor of mine, Ramit Sethi, who I've been learning from for half a decade now and who is responsible for many of the financial (and productivity) systems I use in my every day life.
Ramit is a New York Times best-selling author, a world-class teacher, and creates world-class material on this subject.
Ramit can help you dig deep into the psychology and "invisible scripts" which sabotage our best efforts, then show you how to follow a proven system for making money on the side.
These include:
A system for discovering a profitable idea
Specific ways to sell without sleaze
And even how to manage your time to earn income in just 5 hours/week (I've literally done this myself using Ramit's exact tactics).
The truth is, most of us WANT to start a business for the freedom, flexibility and income it offers. It's one of the top requested subjects I encounter.
But for whatever reason, a lot of us haven't started yet. For some, we think "I don't have idea" and, for others, we think "I don't have enough time."
Now's the time to stop waiting for the mythical day that the stars align and get started.
Ramit will walk you step-by-step through how to find a profitable idea, how launch your side business, and how to get lots of paying customers… doing what you love (all while spending just a few hours per week on your business).
This is not a get rich quick scheme to create a business overnight. He will show you exactly how to create an ASSET that can pay you to do what you love… that continues to grow.
Join This One-Time Only Webinar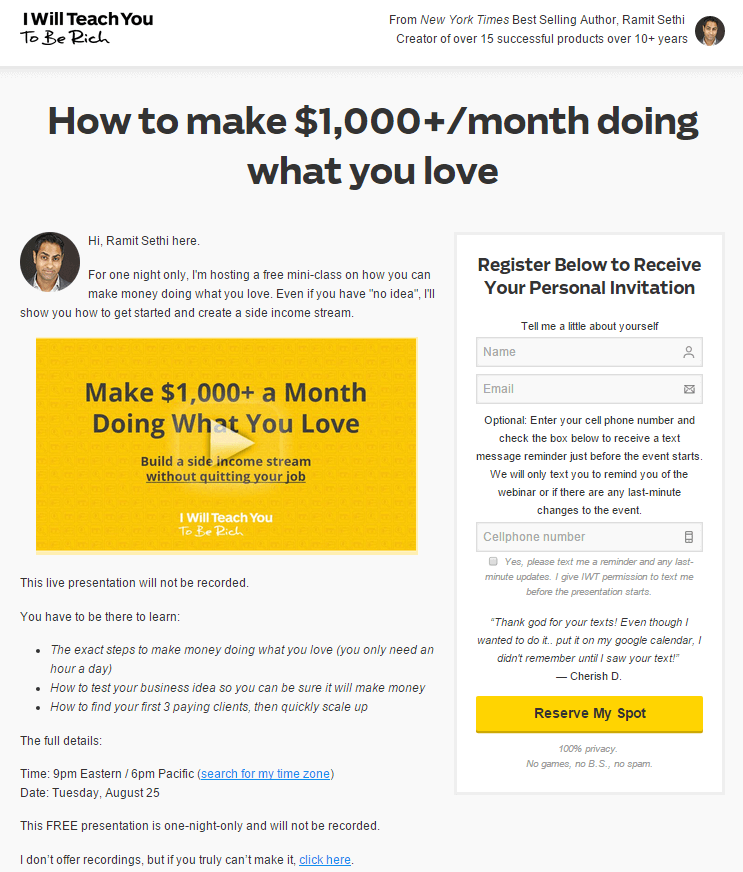 This Tuesday, August 25th, he's doing an in-depth presentation to help you cut through the noise and build a real business based on skills you ALREADY have.
The details:
How to make $1,000+/month (on the side) doing what you love
He'll show you:
The 3 crippling myths about following your passion (and how to avoid these so you don't get stuck in the same rut as most "wantrepreneurs")
The exact steps to start a side business doing what you love (you only need an hour a day)
How to test your business idea for profitability without wasting time or money
How to find your first 3 paying clients, then quickly scale up
When / Where / How?
When: Tuesday, August 25th at 9 PM ET
Where: Click here to register – https://academysuccess.com/earn1k-webinar
Recorded? Sorry, this will not be recorded. One night only.
If you're ready to stop dreaming and start earning your first $1,000/month on the side, register for the presentation below.
You won't want to miss this.
Register here now: https://academysuccess.com/earn1k-webinar