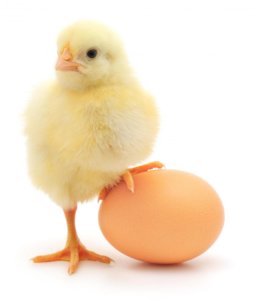 If you've been reading this blog for any long period of time, you've probably noticed that I haven't been writing nearly as much as I normally do.
There are a couple of reasons for this, one being that I'm putting more time into growing a small side hustle doing web consulting and building WordPress websites for small businesses, called Louisville Web Nerds. The other, and much larger reason, being that my wife and I had a baby girl about six months ago.
As you can tell by that terribly written sentence, my writing skills are also a bit rusty and I'm a bit sleep deprived, but the content must go on. 🙂
Needless to say, things have changed a lot for us in terms of how we each spend our time.
I've learned a lot in these past six months, not just about babies and how to get them to chill out (a very useful skill), but also about all of the things that change when you do become a parent. It may be another six months before I write anything else – I'm not really sure – but hopefully you'll be able to benefit from what I've observed about my first six months of being a dad.
You start seeing your time a lot differently
I've always been someone who puts a high value on time, but when a baby enters the picture you have A LOT less spare time to go around. Thus, that spare time becomes a lot more valuable, and you inherently become more efficient at everything else you do. Either that, or you just suck at life for a while until you figure out what's important, which leads me to my next point. 🙂
You start to understand what really matters
Having a baby forces you to take a step back and assess what you're spending your time on, and what the value those things are to your life, family, and goals. You'll find that a lot of things that once were your highest priority (like hitting the gym 5x a week to attempt to get swole), are some of the last things you care about now.
Your top priority becomes taking care of that baby and your family.
Assuming those things are under control, you also zero in on how to achieve your goals more effectively. For instance, one of my goals has been to build a side business that I can use to pad my retirement and fund other savings goals (with SEP IRA you can defer taxes on about 20% of side business income for retirement).
Before my baby girl was born I was working on a fitness gear website. It took a lot of time to build and operate, and it was starting to become profitable as I figured things out.
However, it ended up taking WAY too much time and energy to keep up with. Once I turned my focus to web consulting and publishing, two things that feature simple ways to create recurring revenue, I was able to 5x the income I was making with 1/2 of the work (product fulfillment takes more time than you might think).
It's amazing how that change in perspective forces you to focus.
You start to pay much more attention to your health
While I can no longer sustain going to the gym more than a few times a week (sometimes not at all) I now have a life other than my own who is completely dependent on me. If I fail to take care of myself, I obviously cannot take care of my family.
Once you've got someone else who is completely dependent on you being available and healthy, you'll start to be a lot more motivated to eat clean, get preventative care, get sustainable activity, take care of your body, and maintain your overall health in a much more effective manner.
It's not always easy to do, believe me, but this is definitely something that's on my mind now more than ever.
You start to question (almost) every expense
Being the frugal dude that I am, I tend to be pretty selective with what I spend my money on anyway, but the birth of my daughter magnified this need to minimize expenses even further. In the past 6 months I've found about $2,000 in annual savings, mostly with some overpriced home and auto insurance that we hadn't bothered to shop around to get rid of, and a mortgage that we were able to refinance with an increased credit score.