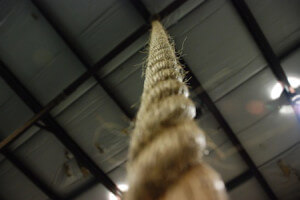 Having graduated with an MBA and having done fairly well for myself in life so far… it's not often I feel like a total idiot, but a couple of days ago… it happened.
There I was in CrossFit class, in an incredibly equipped industrial style gym with about 15 people in it… all of whom were ready to do an ass-kicker of a workout.
We had to lift around our body weight up to our face (depending on skill level), climb to the top of a 15 foot rope, and sprint a few hundred meters.
But not just once. We were to do that four times, in under 15 minutes.
For some it's easy. But even though I'm a decent athlete, I'm certainly not the best of them.
Out of all of that, it was the dang rope that intimidated me the most. Not because I was scared to climb it, but because during CrossFit, you are expected to execute the exercises with proper form and efficiency.
When most people climb a rope, they're using their arms to climb it, and their legs are just there to hang on.
With CrossFit, it's the opposite. Your legs do most of the work through a specialized technique that basically allows you to lock your feet on the rope and just stand up on it until your reach the top. It's much more efficient.
Well… until a couple of days ago, I hadn't quite figured out this technique. I had tried it before, so I had the first part of it, but couldn't for the life of me figure out the next.
So before we all started, I was messing with the rope, looking like a moron I'm sure, trying to climb it.
But I kept getting stuck and couldn't get past the first pull. It wasn't because I was too weak. I just couldn't get the technique down.
As The Blogger Dangled From the Rope
It was at that point I was lucky and spotted the coach, Rachel, walking past me as I mercilessly dangled 9 feet in the air.
Still looking like a total moron, hesitantly, I did what no man is supposed to do during a workout. I asked for help.
Luckily, Rachel gladly assisted.
"Hey Rachel," I said. "I can get the first part where my feet are on the rope, and I can stand up fine, but I get stuck here. What do I do?"
It was at that point where she was probably thinking – "Really, dude? Are you honestly asking me this?"
Rachel smiled, and said "Are you unlocking your feet?"
"Oh…" I said, feeling like I had just discovered fire was hot or something.
Turns out I hadn't figured out that in order to get to the next progression in the movement, all I had to do was unlock my feet from the rope, relock them a few feet up, then stand up again.
Omg, duh…
And with Rachel's helpful (yet insanely obvious) piece of advice, I climbed that rope like a firefighter rescuing a kitten, and had absolutely no trouble after that.
But the best part was what came after I descended from my triumph.
I graciously thanked her and she proceeded to say, "Dude, come to me with a real problem," of course in a joking manner.
Yea… good call.
I couldn't help but laugh at myself at how easy that was to do afterwards.
But, here's the lesson in that story.
Now I'm a Rocket Scientist
Rachel has a unique skill set. She's a certified CrossFit trainer, which not many people can say. And even more importantly, she knew how to spot my mistake easily.
What was really obvious to her was, at the time, like total rocket science to me. Since the first time I tried that rope I feared it because I just couldn't figure it out.
You see, expertise is totally relative.
While Rachel is not the best CrossFit trainer in the world, that didn't stop her from doing it as a profession. She's leaps and bounds ahead of 99% of people in the world at what she does, and that makes her skills very valuable to a lot of people.
And the same goes for you and your skills.
A lot of people won't go out and do something because they aren't the best at it.
They won't teach a class because there are better teachers out there.
They won't write a book because they're not the world's most highly respected authority in that subject.
They won't start a business because they can't be Wal-Mart.
But here's the thing.
In relation to the knowledge of novices, everyone with even the slightest bit of expertise in a subject, even if they've only studied it a little bit, is an expert.
Don't think because you're not the best in the world at something that your skill set is not valuable.
Even though you might not be the best, someone out there needs and can benefit from your expertise, and they're probably willing to pay you pretty well for it.