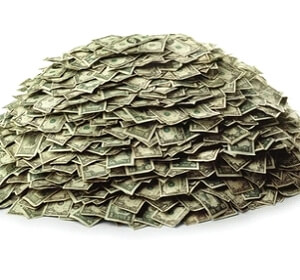 Alright – So a lot of you out there are probably getting big fat tax refunds rolling in about now (at least a couple Gs, right?). Maybe you're not getting a big fat pile of cash like the one in the picture, but most people at least get a nice chunk of change that can be put to good use, one way or another.
So you're probably hearing all kinds of BS right now about what to do with it, and I'm going to help give you some good long term ideas in a second (patience my friend), but first I want to dispel one common myth about tax refunds that you'll hear a lot. You'll probably hear this in any and every personal finance training you go to, and it's dead wrong.
"A tax refund is just the government using your money for a year, then giving it back to you"
Ok, while that might be true, it actually benefits you quite a bit.
Why?
Well, let's think about it. If you had that couple thousand bucks and earned a really generous 10% interest on it throughout the year, you'd be up $200 bucks, but that's just not a reality. There is a human behavior element present here that the conspiracy theorists don't think about.
People aren't that disciplined!
If you have an extra few thousand bucks during the year, you're WAAAAYYY more likely to spend it throughout the year than you are to put it away for a rainy day. It's human nature. The more you make the more you spend. So, yes, while the government might be using your money for a year, it's in your best interest.
You're far more likely to use it wisely if you get it all in a big chunk, than just in small increments.
So that being said, what's the smart thing to do with your tax refund?
What To Do With Your Tax Refund
I'd like to advise you to do one, a couple, or all of the things below with this upcoming or already received large chunk of cash
1.) Reward Yourself With Something (Small) You've Really Been Wanting
Some of you might think I'm nuts when I say this, but just bear with me. Hopefully I can make some sense.
Depending on how large your refund is, take a few hundred bucks of it, maybe 8-10% of it, and buy yourself something you've been wanting to buy, but haven't been able to. Notice I say 8-10%, not half of it!
The psychology behind this is if you get yourself something small you've been wanting, you've rewarded yourself with your refund. You've spent it responsibly on something you want, but you've left yourself 90% of it or more to be smart with it, which is what comes next.
2.) Pay off Debt, Especially High Interest Debt
After you've experienced your tax refund reward, this one is a no-brainer for long term financial benefit. The sad things is, so many people just neglect to do this because they don't see the losses they take by continuing to make small payments on high interest debt over time. Fact is, you end up spending A LOT more over the long term on high interest debt by paying it off now than you gain by not using your tax refund on it. That $5,000 bucks you decide not to pay off right now will end up costing you over an additional $1000 in 5 years  at 5% interest –  (sound like a student loan to some of you?)