Winner winner. Chicken dinner.
Blackjack is my game of choice when I'm feeling dumb enough to brave the casinos.
It's pretty easy to learn, pretty inexpensive to play, and if you really know what you're doing, you can usually come away with you sat down with and a few free drinks – or sometimes a lot more.
When I got married in Vegas a few years ago, I really didn't know all that much about it, but it was always pretty interesting to me because it seemed pretty simple, or so I thought.
During our wedding trip, I sat down at a few tables and promptly lost a couple hundred bucks. Not cool.
But I also noticed that those who I was at the same table with were either winning, or breaking even. How were we playing the same game with such dramatically different outcomes?
I had to be doing something wrong, and it turns out I was.
Since then I studied the game, learned how to play correctly, have had a lot of fun, and even made some money doing it (you win some, you lose some).
As I began playing more and more, I started to notice a lot of similarities between the way I played my blackjack hands, and the way I manage my money. It even helped me see a bit of a new perspective on some of the things I was doing with my stock portfolio.
I thought it would be fun to explore those similarities here.
Here are five things blackjack has taught me about money.
If you play long enough, math always wins.

Depending on the table you're sitting at, the house always has an advantage over you, even if you play perfectly to blackjack basic strategy.
Unless you're counting cards and employing some very advanced betting strategies, there is no way around this fact. Casinos wouldn't be in business otherwise.
Sure, you may go on a hot streak and win big for a short period of time, but statistically, you're also just as likely to go on a cold streak and lose big. Just ask any good blackjack player about the heavy swings of the game.
So how does this relate to investing and personal finance?
Dan Egan from Betterment recently wrote an excellent article on their blog about this exact subject. In his article, he uses historical data to illustrate returns based on the length of time an account is invested in the broad S&P market.
Without getting into the nitty gritty details, the longer you invest, the higher your chances are of making money, by like… A LOT.
In this example, an investment in the S&P has a 95.9% chance of making money over a period of 12 years.

But turn that dial down to just one year, and the chance of losing is quite a bit higher.
Behind all of the fancy graphics is just one simple mathematical lesson. The longer you stay invested in a broad and diversified market using funds with low fees (like Betterment does), the higher your chances are of earning a sizable return.
If you only invest for a year or two, maybe your account goes up quite a bit, or maybe it tanks completely. The chances of either are much more volatile with shorter periods of time.
The point is, just like blackjack follows the math over the long-term, an investor's returns will do the same assuming he or she stays invested – at or around a growth rate of 7-8% annually, which really adds up over time.
The difference is, the house is on your side in this case.
Betterment makes the "broad and diversified with low fees" part easy. If you want to get started growing your money, give them a shot. Here's a link for six months without a single fee.
Math always wins, so stay invested, and like a good card player, make sure you learn how to play. 🙂
Education and experience is critical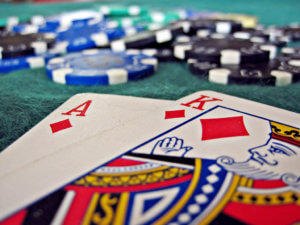 Before you go all Teddy KGB and splash the pot with black chips every hand, you better learn what you're doing first.
Before I learned how to play blackjack correctly to maximize my chances of winning (or more like minimize my chances of losing), I lost basically every time I sat down.
I had no experience or education. I just thought it looked fun and pretty easy to win money, so I sat down and took my chances like an idiot.
Bad idea, especially with real money on the line (the same thing happened with my first few months of investing).