There are plenty of self-improvement blogs out there, many of which offer similar messages, so today I'd just like to show you that I sincerely appreciate your loyalty and commitment to Academy Success.
Rather than participate in the hoopla of holiday sales that are going on as I write this post, I'm actually going to give you a free gift to show my appreciation – a brand new eBook I just put the finishing touches on for you.
There's no better life skill to learn than the skill of how to make a life change.
I've been using this framework for the last 10 years to make changes in my own life, and now I want to pass it along to you.
I'd like to introduce – "Changes That Stick – A 6 Step Guide to Making Big Life Changes"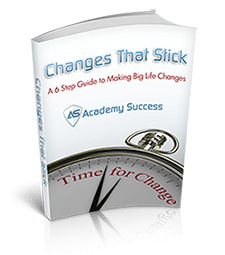 The process laid out in this guide will simplify the change process into a few easy preparation steps, then will help you put it all into action with a scientific approach to making your changes stick.
Step 1 – Identify Your Life Change
Step 2 – Create Your Change Path
Step 3 – Freeing Up Time to Make Your Change
Step 4 – Create Simple and Repeatable Tasks
Step 5 – Eliminate Failure Points
Step 6 – Get Started and Repeat
If you follow these steps, explained in detail within, I can guarantee that you'll be making big life changes in the upcoming year.
All that I ask in return is that you share this eBook with your followers, and the link download link will appear for instant access – no opt-in required.
I hope this helps you and the people you care about – and again, thank you for being an Academy Success subscriber.