Before you can spend every day on the beach while you sit back and watch your money grow (you better believe that will happen) – at some point you're going to have to get a little bit of work done.
You know by now that I'm all about challenging you to think differently, and this post is no different. In fact, even I struggle to think differently in this topic, but I'm actively making it a goal this year.
So here's the deal.
There's only one of you (hopefully), and you can only do so much work until you basically hit a productivity wall, and even become counterproductive.
In fact, Henry Ford famously coined the 40 hour work week in the early 1900s when we cut his employees hours from 9 to 8 (and doubled their pay), then watched Ford explode in growth over the next… well… 100 years.
The Chamber of Commerce also states that people who work past 40 hours experience diminishing returns at a nearly exponential rate per hour.
Yes, while you can experience short-term productivity gains by working longer hours, that's not the way to get more work done, not sustainably anyway. In the long run, you'll literally kill yourself.
So how do you get more done without working more?
By Outsourcing Work and Life
At the highest level of productivity, once you've eliminated and automated every task you can, your next step will be to begin strategically outsourcing your work and your life life in order to free up the time you need to enjoy your life (not work to death), to increase the capacity of your business, or to just plain get more done.
But there's a problem with that. A lot of people approach outsourcing in a manner that I think is a bit backwards, including myself for the better part of my 20s.
They'll say to themselves, "OK, what can I pay someone to do for me?"
To me, this gets you in the wrong mindset. It complicates the decision far too much. There are dozens, possibly hundreds of tasks you could possibly pay someone to accomplish for you. Where do you start?
Rather than charging forward with your quest to free up additional time through outsourcing, you're going to be stuck trying to come up with a list, and that's not getting you anywhere.
Instead, try flipping that question around.
Outsourcing at its peak will put you in a situation where you're only working on the things that you absolutely can't outsource.
These are things in your life that only you possess the skills to do justice.
For Example:
The creative process to build products in your business
The writing of a book that is very close to home for you (although more books than you realized are almost fully outsourced)
A business trip where you're a key part of the deal
A public speaking gig where you're the expert
The videos on your Youtube channel
Recording your podcast
These are things that absolutely require your direct participation without question. To have someone else do them for you would obviously be utterly fake and would not give your life or business the result it needs to grow (although you can outsource many parts of them, post-production, for example).
Imagine a public speaker calling his assistant to the stage to deliver a speech. Crazy right?
But that assistant is perfectly capable of a wide variety of other things – arranging a travel itinerary for example, writing and editing a speech, or perhaps performing video edits and distribution.
These are the types of areas where massive productivity gains can be achieved that a lot of people don't think of, by outsourcing repeatable processes and systems.
You really only need to do a small subset of things in your life yourself. The rest can be totally outsourced.
Are you starting to see the difference?
Rather than asking yourself what you can outsource, simply ask yourself – "What can't someone else do for me?"
A New Thinking Paradigm
This frame of mind forces you to isolate what is absolutely key for you to be involved in. Everything else is fair game, especially tasks that others may be able to perform better for you. Those are almost 2x productive, because you get something done you may not normally be able to.
In my case for example, whenever I try to do anything artistic, the end result is never what it could be if I hired an artist. I would end up spending an hour to draw a cat correctly. I was going to show you, but I literally think I would embarrass myself 🙂
So back to the question – "What can't someone else do for me?"
As you do this exercise, you'll probably come up with a very finite list of things that absolutely require your personal attention, and you'll start to notice that there are a lot more things in your life that you can outsource than you thought.
This is when you'll start to realize how much time you're spending on "staying busy."
By the end of it, you'll know that, without a doubt, everything that is NOT on your "What can't someone else do for me?" list, you can effectively outsource to someone else.
This is incredibly liberating.
From there, simply identify your highest bang for the buck items, weigh them in terms of cost (free up money if you need to), and start divvying them up to your go-to experts.
TIP: When going through this exercise, I highly encourage you to "let go" in certain areas that you may feel compelled to hang on to and not outsource. It's tough for some people to relinquish control and power, but all that ends up doing is getting in the way of productivity. This is tough for me to do, but I promise you it's well worth the extra time you'll have.
It's fine to make sure something gets done correctly if you do decide to outsource it. Just don't stand in the way of progress for the sake of having total control.
It's Time to Take Action:
So now I want to ask you a serious question. Did you have a goal to get more done this year? If it wasn't that exact goal, did you have a goal to get something done that you needed to free up time for?
If so, you're staring your answer to having the time to do it right in the face.
Take 3 minutes and go through this exercise with yourself.
Create a finite list of things that someone else absolutely cannot do for you. These are going to be the very high value items in your life. Feel free to share in the comments as well. I'll help you analyze these if you're not sure how to outsource something.
Once you've completed your list, you'll know that everything else in your life is fair game to outsource without question.
Please be sure to share if you feel this has been helpful to you. The sharing links are on your left.
—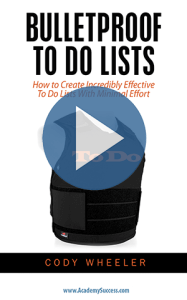 PS: I just released a new mini video course under the Courses tab called Bulletproof To Do Lists. It's live right now and at the time I am writing this post, is only $7.
I'll say that again – ONLY $7! I can promise it won't be priced that low forever, but if you grab it now, it'll cost you less than your next lunch.
Give it a shot if you're looking for a framework to organize your days better to achieve your long-term goals. Mastering to do lists is one of the highest return ways to increase your personal productivity.