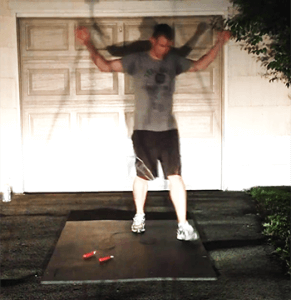 For those of you that are unfamiliar with what a double under is, well, I can't really say I blame you.
A double under is the passing of a high speed jump rope not once, but twice under your feet in a single jump.
This is a common movement in the sport of CrossFit, which has recently taken the fitness world by storm, and a sport I participate in frequently.
But this story isn't just about double unders. While it does involve the execution of 10,000 double unders in 30 days, it's about much more than that.
This is a story about:
Skill acquisition hacking

Self-image hacking
Psychology of change
Inspiration
Discipline
Progression
Adaptation
And the creation of time for a goal
Before going into the full story, I want to share with you a few reasons why I set out on this challenge for myself, as well the rules I followed, the inspiration I kept with me, and the skill hacking method I learned from Tim Ferriss's 'The Four Hour Chef' that really helped catapult me from beginner to borderline expert in just a couple of weeks.
I'm going to explain that method in this post.
Why Did I Do It?
It wasn't to lose weight. It wasn't to increase my vertical. It wasn't to increase my cardio. And it definitely wasn't for the fun of it.
All of those things (except the last one) were just cool side effects.
For me, this was more about the challenge of doing something a little crazy. It was not only to see if I could crack 10k in 30 days as a personal challenge, but also to see if I could hack the skill enough to operate at an expert level in that same time frame.
Plus, if I could do this in 30 days, what other cool stuff could I accomplish in just a few weeks?
But it wasn't just that either. It was also about forging self-discipline and continuous life progression. This challenge was not something I looked forward to doing every day, but I knew if I stayed with it, I would get better, and that was a really satisfying reward.
I've always been someone who wants to continue to improve, and that's what Academy Success is all about. Always Be Improving.
The Rules:
For a double under to count towards the total, it had to be during an unbroken set of at least two consecutive double unders. Single double unders did not count. Unsuccessful DU attempts did not count.
After week two, any set of less than 5 unbroken double unders did not count.
After week three, any set of less than 10 unbroken double unders did not count.
All 10,000 double unders had to be completed within 30 consecutive days starting from day 1
Double unders performed during CrossFit WODs did count towards the full total (including all coaching sessions and classes)
If illness or injury occurred during the challenge (which it did), double unders must be made up upon recovery within the initial 30 day time frame. No exceptions.
All of these rules kept me progressing, kept me honest, and made sure I had no excuses or ways to procrastinate during my challenge.