Leading a more successful life isn't just about being more productive, or learning how to manage your finances well.
It's about learning how to be a more effective person overall through the acquisition of a variety of skills and knowledge, and I want to be able to help do that for you through Academy Success.
So to move closer towards that goal, I teamed up with 9 of my best blogging friends to create an awesome resource full of some of our best tips.
It's called "The Lifehacker's Manifesto" and it's currently available for free.
Here are the contributors, from some of the hottest self-improvement sites online.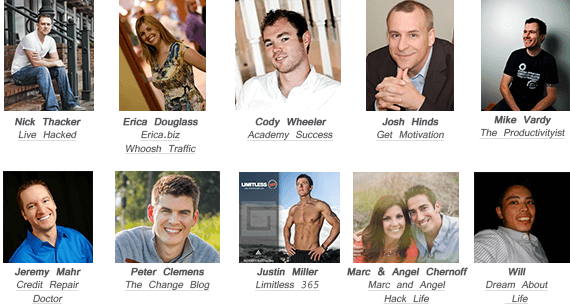 Inside The Lifehackers Manifesto, you'll learn:
How to Tackle Large Achievements to experience huge lifestyle milestones
How to Get Out of Your Own Way to develop a rock-solid achievement mindset
The psychology behind Balancing Living Life and Learning
The best way to Manage Distractions and Stay Focused
An all-star method to Streamline Your Finances
How to Hack Your Health to drastically improve your output
The utter importance of Downtime in Your Life
How to Stay Continuously Motivated
A simple, but Life Changing Productivity Experiment
The top habit you should Stop Doing to get more done
Grab your copy of The Lifehackers Manifesto now. Enjoy!