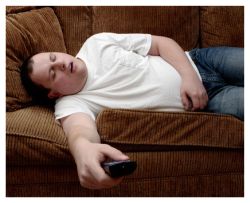 There are five words in everyone's vocabulary that will make or break that person's level of productivity throughout their lifetime. You've encountered them many times, and most likely multiple times daily.
High level managers, CEOs, world leaders, rockstars, movie stars – Everyone who has ever lived on this planet – even some of the most successful people in this world have encountered these five words.
There are very few people in this world that are naturally driven to be productive all day, every day. In fact, many of the most successful people I know have told me personally that they sometimes just want to lay around and do nothing. What keeps those people going?
Maybe it's the desire to be something great. Maybe it's the fear of being nothing. But whatever it is, all of these people have one thing in common.
They've all learned to squash these fives words when they pop up.
"I don't feel like it"
Although I'm not a powerhouse 20 something millionaire or high level executive, I consider myself to be a fairly successful individual for where I am in my life – and if I had given in to those words throughout my short life, I wouldn't be nearly where I am today.
Sitting in my office late at night with books scattered all over my desk. Spreadsheets full of numbers that frankly, sometimes didn't make any sense. Study guides strewn all over the place full of terminology that, honestly, I didn't care to learn – graduate school was full of "I don't feel like it."
It was enough to overwhelm a person just by looking at it.
But I got through it all – and you can too.
What got me through those feelings of "I don't feel like it"?
I suppose for me it was my desire to be something more than just mediocre. Maybe it was because I wanted to show the naysayers that they were wrong. Maybe I wanted to just be better than the next guy.
Whatever it was at any given time – those things kept me going. They kept me from just closing my books and going to bed. They kept me from giving into those overwhelming feelings of sometimes just having way too much to do.
How Does This Help You?
Maybe you're not in graduate school, but it doesn't matter what the situation is. These lessons apply in any situation when you just don't feel like it.
You have to see the end result. You have to always refer back to that motivation that got the idea in your head in the first place. You have to keep your eye on the ultimate prize of what this task is going to mean for you.
How is it going to enhance your life?
How is it going to help you avoid something negative?
Over time – by using this motivation – you'll train yourself to ignore your inner laziness when it tells you that you don't feel like doing something. You'll stop making excuses. You'll stop getting overwhelmed.
The result will be a much more productive and happy person. You'll start doing the things you've always wanted to do. You'll make more money. You'll get in better shape. You'll feel better about yourself. All kinds of positive things will happen.
And it will all snowball and build on itself.
Closing Thoughts
Look back on situations you've been in where you told yourself "I don't feel like it." If you went through with it anyway, I bet once you got started you had no problem completing the task.
That's because – in nearly all cases – once you get over the small little hurdle of "I don't feel like it" and just do whatever it is you need to do – you'll feel fine once you've gotten your task in motion. Once you get up and moving, you've beaten your inner laziness and now you can focus on what you need to get done.
The hardest thing about doing something is just getting started. That's what you must learn to do.