These are companies like Apple, Facebook, Google, Disney, Qualcomm, Coca-Cola, and so on. And if one of them does happen to fail, the others will protect the fund from losses, and the mutual fund manager will likely remove that from the fund's holdings.
Holding this type of fund over the long-term is very safe and will likely pay off very handsomely.
Now you might be thinking, but "how am I going to get rich if I don't buy stocks that won't double in two weeks?"
Well, you think long-term. That's how.
For the average investor, most stocks by themselves are no better than coin flips. You do have to know what you're doing to invest in individual stocks.
But that's the beauty of IRAs and 401ks. They are meant to be long-term investment vehicles. They live in these types of safe, index and sector based funds.
So before I flip my coin, consider that the stock market is up an average of 10% per year since the 1920s. That's almost 100 years. But let's just call this experiment for 30 years.
Even if you had only $5,000 to invest, just one single time, it would end up multiplying several times over at this rate.
It would be over $87,000 in 30 years.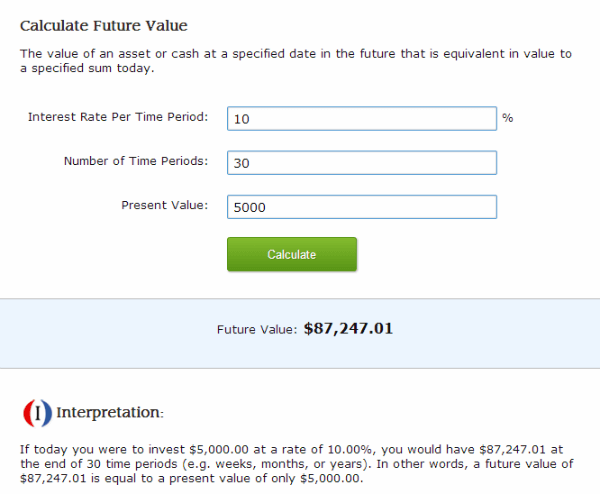 Would You Rather
So I ask again, would you rather risk losing $5,000 for a 50/50 chance of having $10,000 now?
OR
Would you rather invest that $5,000 at 10%, leave it there, and have essentially a 95% chance at having $87,000 or more in 30 years?
And remember, if you lose, or worse, you choose to spend that $5,000, you have nothing but a pile of stuff.
As you can see, the upside is much larger than the downside when invested safely and correctly. That's how to create wealth over the long-term without gambling.
So let me flip my coin. You decide if you're going to play or not. I'll be here on the sidelines watching my money grow.
Did you play? If so, did you win?
If you won, well, congratulations, but that's called a short-term win. Sometimes they do happen and you can make some good money, but here's the thing.
If I flipped this same coin 100 times, I would have something extremely close to 50 heads and 50 tails (if you don't believe me, read this and be prepared for heavy nerdiness), which means if you won and kept playing, you're either going to lose eventually or break even.
Most investors, when trading in and out of funds like this, and freaking out over short-term market fluctuations, end up making really bad decisions, and because of it get returns in the 2% range.
By staying invested for the long-term, taking advantage of high growth index funds, following strategies like dollar cost averaging, and trusting the history of the last 100 years, returns of 10% annually and higher over the long-term are possible.
We're Not Gambling Here. We're Following a System
One of my favorite movies is "21" with Kevin Spacey and Jim Sturgess crushing Vegas with a professional blackjack system, which actually happened several times, and still does.