In fact, it's probably the easiest way because of all of the perks that come with it (we'll discuss those in a few days).
For now, let's do some quick math. Actually let's let someone else do the math, because it's just way easier that way 🙂
I'm going to use a 401k Calculator for this, because most 9-5 workers are rocking 401ks or something similar, but for those of you that aren't, this same calculation works for any typical retirement plan. It's all about growth of money over time.
Let's say you want to hang up the suit and tie (or whatever your work attire may be) at age 60. Even if you get started at age 30, which is not particularly early these days, you can still hit about $1.3 million by age 60.
This assumes you're making $50k, with a 3% employer match and 10% growth rate. This is a pretty highly likely scenario.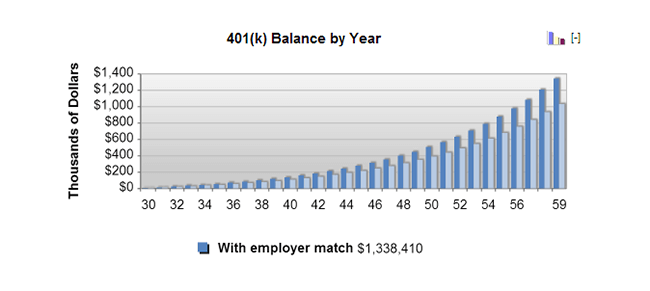 Not too shabby.
But even if you aren't fortunate enough to get an employer match (about 75% of plans do), you're still coming in with around $1.05 million, which is more than enough to create a portfolio that will earn more than you spend each year, and it's likely that at some point in your career, your retirement benefits are going to improve.
Let's crank that up a bit
So now for shits and giggles, what if you take the Academy Success route?
You educate yourself and find a higher paying job
You negotiate raises throughout your career, and continue to improve yourself
You make a little bit extra on the side
You live a comfortable, yet non-excessive lifestyle
You max out, or come close to maxing out your 401k each year
You max out, or come close to maxing out your IRA each year
You build a portfolio of other solid growth and stable assets
Throw employer matching into the picture  and we're talking the ability to save somewhere in the neighborhood of $30,000 a year you might be able to put back, if not more (you can see my own personal breakdown of this strategy in action here).
You'd be a millionaire in your mid 40s, and a multi-millionaire in your early 50s. By the time you're ready to retire, you're knocking on the door of 8 figures – almost a 10x increase within that exact same time period.
Is this feasible? Absolutely, and the more you believe it and can see it happening, the more it's possible for you to do.
But what about those extravagant things you might want to buy? Your retirement home, your boat, nice vehicles?
You can make sure money will not be an issue
You do have to be smart to retire effectively, but the good news is, unless you're planning to buy a Rolls Royce every two years, which if you are you probably shouldn't be reading this site, the income that your portfolio generates for you will have you covered as long as you take the steps to build it up enough.