The Lifehacker's Manifesto
What's the best way to approach a significant life change? How can you overcome accomplishment obstacles? What's the best way to organize your finances? You'll learn proven methods for all of this and more in The Lifehacker's Manifesto.
I've rallied 10 of the hottest up and coming life hacking experts together to create this report just for you. Some are prolific bloggers, some are millionaire business owners. All are life hacking rockstars. Experience these 10 life changing discussions now.
How to Tackle Large Achievements to experience huge lifestyle milestones
How to Get Out of Your Own Way and develop a rock-solid mindset
The psychology behind Balancing Living Life and Learning
The best way to Manage Distractions and Stay Focused
An all-star method to Streamline Your Finances
How to Hack Your Health to drastically improve your output
The utter importance of Downtime in Your Life
How to Stay Continuously Motivated
A simple, but Life Changing Productivity Experiment
The top habit you should Stop Doing to get more done
Plus Free Updates from Academy Success
The Academy Success community is all about finding a better way, and these 10 experts are no different. Grab the Lifehacker's Manifesto today and experience a lifetime of personal achievement.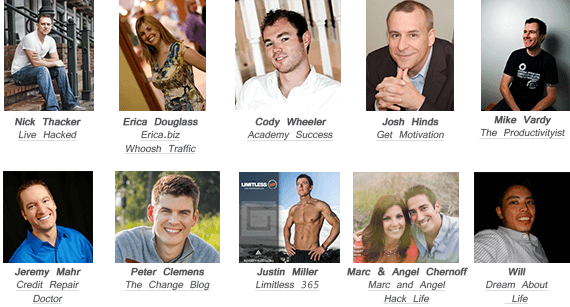 "When I first saw The Lifehacker's Manifesto I knew it was going to be awesome, but I had NO IDEA it was going to be this awesome. Thanks so much for putting this amazing resource together."
— Lily P.
Not ready to experience success just yet? Return to Academy Success